Xi
Astrographical
Region

Unknown Space

System

Xi system

Suns

Binary (Double Ooveh)

Orbital position

4th

Moons

2

Distance from Core

>43,000 Light Years

Rotation period

25.5 hours

Orbital period

302 days

Physical
Class

Terrestrial

Diameter

9572 kilometers

Atmosphere

Oxygen Mix, Type I (Breathable)

Climate

Temperate

Gravity

70% Standard

Primary terrain

Grasslands
Mostly Oceans
Forests
Jungles
Swamps
Deserts
Ice cap
Mountains
Urban

Surface water

80%

Societal
Native species

Human variant

Official language

Galactic Basic Standard

Government

Corporate

Population

400 million (at apex)

Xi was a planet dominated by vast oceans. These oceans blocked the early societies from forming under one flag, and for 500 years they fought to gain control, before Caldari Jun'iar took the reigns and brought the peoples of Xi under one flag prior to the Infinite Empire.
Terrain and Atmosphere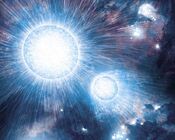 Xi orbited twin suns in the forward edge of the green zone
Vast blue green seas dominated the planets surface, and what wasn't covered by seas were prairies, plains, and mountain ranges. The Northern and Southern polar ice caps were frozen land masses which contained little life. The six land masses that did exist allowed for many species to thrive in the water and oxygen rich environment. Mountains contained rich reserves of exotic metals and dense minerals, the plains were rich for farming and the raising of livestock, and the many shallow oceans soon became a footing for vast floating metropolises.
Population and Government
The dominant species on Xi were a human variant with a unique attachment to the force and extremely log lifespans. On the six continents, six main clans arose to power. When they discovered each other, they began fighting for control of the planet. 500 years of war led to great technological triumphs that included great ocean going battleships and great flying metal airships. However it also led to the eradication of the Ama'tar clan. In an act of peace, Caldari Jun'iar united the remaining five clans (Jun'iar, Lei,neu, Fao'cen, Ber'lan, and Thu'ker) under one flag. In this act of peace, the Thu'ker clan vowed to never make their home on land again, and thus became navigators of sea and space. The Jun'iar became the ruling clan, the Lei,neu stayed more political, and the Fao'cen and Ber'lan became the primary manufacturing and harvesting clans respectively. In this, Xi became the center of a massive corporation that soon sought to expand outside the solar system.
Within several decades the Rakatan soon found their way to Xi and the people were ready with an armada. But it was because of this and their connection to the force they were allowed freedom during the terrible Infinite Empire
Destruction of Xi
In the year of 5,792 BBY the smallest of Xi's binary stars, Whai, began to swell, this alerted the people and a mass evacuation of the planet began. Within a month the planet was completely evacuated except for a team of Republic scientists. It took a full year before Whai absorbed its larger brother, Eckus, and another year after to absorb the first two planets. It stayed like this until in 5,781 the new white giant (Ooveh, Class Ia) began to spew massive amounts of its mass into the surrounding solar system. Ooveh, now a Class WR, lasted for seventy nine years before instantly collapsing into a magnetron. Within minutes the metal cores of each of the planets in the system were ripped from their hosts and hurled into the depths of space, and the broken corpses of the great masses were lost. Xi was no more