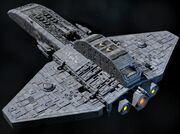 The TITAN Support Frigate was designed to be just that: a support craft. Light armor allowed them to be fast, agile, and hard to hit. But of course offered far less protection than most armor types would. The TITAN Support Frigate could not stand up to many vessels in a standoff but a skilled commander could utilize the TITAN Support Frigate's superior speed and maneuverability to win an engagement with a stronger craft. With multiple vessels, a commander could easily harass a vessel up to 5 times the size of the TITAN Support Frigate. Or hold off an entire flight of starfighters or bombers.
Length:
Width:
Height:
Hull:
Armament:
Speed:
Crew:
Engines:
Hyperdrive:
Cargo Capacity:
Complement:
-or-
-or-
Countermeasures:
Other Systems:
300,000 credits
Community content is available under
CC-BY-SA
unless otherwise noted.