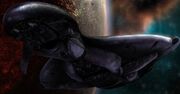 The Rotoktober-Class Missile Cruiser was designed by DeathTech Industries' Engineers as a missile support cruiser. Having what appeared to be light armor it provided a deceptive aura of an easy target, which could lead to an enemy attacking unprepared, which quite often proved fatal. While the Rotoktober possessed no external command tower it employed one of the most sophisticated sensor systems in production, thus allowing for an internal command center, located in the center or "belly" of the ship. Nearly all of the armament of the Rotoktober was designed to be utilized for long range attacks, sending a swarm of missiles followed by even more missiles. The Rotoktober was never designed to take on any vessel in close combat and thus relied on his surprisingly strong armor, speed and mobility to survive any close encounter. The end result was one fantastic long range support capitol ship.
Technical Specifications
Edit
Length:
Width:
Height:
Hull:
Armament:
Speed:
Crew:
Engines:
Hyperdrive:
Countermeasures:
Other Systems:
4,995,903 credits
Community content is available under
CC-BY-SA
unless otherwise noted.