NOE907 "Specter
Edit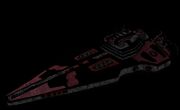 The NOE907 Specter is a stealth vessel who's main purpose is to provide up to date reconnaissance for the following fleet. Although it features a relatively light armament, the NOE907 Specter is perfectly suited for short, or long term deep reconnaissance missions as well. It features a modified 4x-Phantom sensor jammer which works at increased distances to absorb and block incoming long-range sensor pings.
Technical Specifications
Edit
Length
Width
Height
Hull
Heavy Durasteel beneath irregular matte-black fiberplast.
Armament
[8] Heavy Turbolasers
[1] Quad Tubolaser
[2] Heavy Ion Cannons
[2] Discord Missile Launchers (5 Missiles each)
Speed
Crew 200
Shields Chepat Supreme Defender.
Powerplant
[3] A2-grade ion engines.
[4] A2.50-grade ion engines.
Hyperdrive
Consumables
Countermeasures
[1] 4x-Phantom sensor jammer (Modified for long-range effectiveness)
[1] 29L electromagnetic countermeasure.
10,000,000 credits
Production
Edit
Although the designs of the NOE907 Specter belong to DeathTech Industries both Pzobian and Bilbringi Shipyards have the rights to produce the NOE907 Specter.
Community content is available under
CC-BY-SA
unless otherwise noted.