New Order of the Eye Long Range Attack Walker
Edit
The NOE-LR-AW is a medium mech based off of the MadDog Mech utilized by Max Christifori and is adapted for use as a long-range indirect attack fire. With hunched shoulders, a protruding head, and reverse-jointed legs, it is easily able to fulfill its main role as a attack Mech. With its ample firepower and decent speed of 86.4 km/h, it makes a highly mobile firing platform. Although it will not be able to stand up to heavy fire, the NOE-LR-AW carries eight and a half tons of EMP-Hardened Durasteel armor for decent protection, bringing it to a total of 60 tons. The internal systems were also hardened to prevent damage from EMP and Ion attacks.
Technical Specs
Edit
Height
Width
Length
Armor
8½ Tons of High Grade 9095Durasteel
Speed
2 LRM-20 Missile Launchers (Fires long range guided missiles)
2 Laser Cannons
2 Turbo Lasers
110,000 republic credits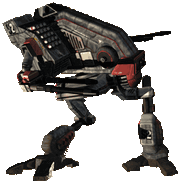 Production
Edit
Produced exclusively by DeathTech Industries on the planet Sump the NOE-LR-AW is a valuable addition to any fighting force.