Lucrehulk-Class Starfighter
Edit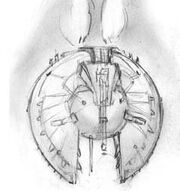 Received its name from its design, mimicking the Lucrehulk-Class Battleship of the Trade Federation. As a droid starfighter (Operated by a class 2 Droid AI) its main role is that of a space superiority starfighter. Often deployed in squadrons of 8. The Lucrehulk-Class Starfighter acts as either an interceptor (Protecting a fleet from enemy starfighters) or it can play the role as assault fighter. The armor of this fighter keeps the speed below the 100 MGLT mark of the Vulture Droid the Lucrehulk-Class Starfighter still maintains an average speed, allowing it to keep pace with most fighters models. In addition to its reduced speed, the Lucrehulk-Class Starfighter lacks a hyperdrive and thus must be recovered prior to a jump or risk having it destroyed.
Technical Specs
Edit
Length
Width
Height
Hull
Speed
4 Laser Cannon
2 Discord Missile Launcher (2 Missiles each)
1 Ion Cannon
144,000 credits
Production
Edit
Although the plans belong to DeathTech Industries, both Pzobian Shipyards and Bilbringi Shipyards have the rights to manufacture the Lucrehulk-Class Starfighter.
Community content is available under
CC-BY-SA
unless otherwise noted.