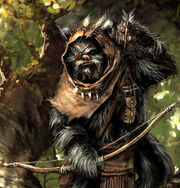 After an unfortunate accident occured in the Famine Lord's bedroom, an ewok of the Flock lost vision in one of his eyes. Dragus sought the best care possible for the ewok but medical science was unable to repair the damage done to the ewok's vision. It was sometime after the ewok donned an eye-patch that Dragus came to realize the striking resemblence it had to Lord Bacca. From that point onwards, the Famine Lord started referring to the ewok as Lil'Bacca, in recognition of the similarities the ewok shared with his Cycloptic brother.
He is usually seen in the company of Kermit, a dragon slug he captured while on Hoth who serves as his mount, pet, and BFF.
Community content is available under
CC-BY-SA
unless otherwise noted.