"Tough Little Ship"

--Clone Trooper
Fortress "Bunkers"
Production information
Manufacturer
Product line

Starships

Model

T90 Fortress

Class

Cruiser,Assault Ship,Troop Carrier

Cost

40,000,000 Million Credits

Technical specifications
Length

950 Meters

Width

500 Meters

Height/depth

230 Meters (with Landing Gear)

Maximum
acceleration

3,600 G

Engine unit(s)

Quantum Ion Drives (3)

Hyperdrive rating

Class 1

Power plant

Generations III Power Plant

Shielding

Equipped

Hull

Impervium Hull Alloy

Targeting systems

LeGrange Targeting Systems

Countermeasures

Chaff Warhead Countermeasures

Armament

Flak Guns (30) Beamrail Gauss Cannons (25) Laser Cannons (20)

Complement

Light Vehicles (400) Medium Vehicles (200) Heavy Vehicles (150)

Docking bays

3 (1 Rear, 1 Port, 1 Starboard

Crew

800

Minimum crew

300

Passengers

25,000 Troops/Support Troops

Cargo handling systems

250,000 Metric Tons

Consumables

9 Years

Usage
Role(s)

Transport, Frigate

Era(s)

Chaos Era (RP Era)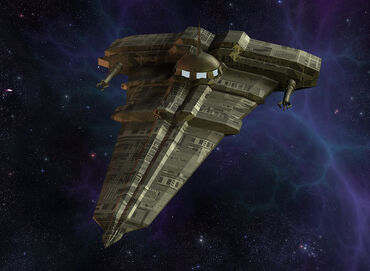 Characteristics
Edit
Dimensions
Edit
The 950-meter-long Fortress-Class Assault Ship can carry thousands of troops into battle. It favors a wedge or dagger shaped design, similar to the Republic/Imperial warships during the Rise of the Empire due to its effectiveness. It allows a concentration of firepower while minimizing target profile. It resembles a sort of an upgrade to the old Acclamator I Class Gunships. Approximately 750 vehicles of all sizes can be stored inside, though there is a fighter variant that could carry over 100 fighters and bombers. The Bridge is a large spherical shape placed towards the rear of the ship.
Offense and Defense
Edit
Its large troop carrying space limited the amount of weapons on the ship, but its tough Impervium Alloy Hull allows the ship to take punishing damage before critical failure. It was recorded during battle tests that the Fortress could take breaches in the hull system, but its halls are worked with honeycomb after honeycomb of reinforced titanium and Durasteel lining, allowing the ship to suffer terrible damage and still able to run on basic life support and engines. It is armed with 30 Defensive heavy flak guns and 25 Beamrail Gauss Cannons, it also houses 20 defensive anti-fighter laser cannons.
Community content is available under
CC-BY-SA
unless otherwise noted.