Fehl'erfrei Star Cruiser
Edit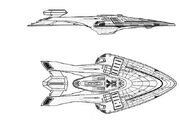 The Fehl'erfrei Star Cruiser is the perfect rapid assault vessel. Quick, agile, and well armed and armored. It can hold its own against almost any vessel up to the larger medium craft. In pairs however they can harass and out maneuver nearly any vessel. Its heavy armament allows it to deal heavy and decisive blows against an enemy fleet. Although the plans belong to DeathTech Industries both Pzobian and Bilbringi Shipyards have the right to produce them.
Technical Specifications
Edit
Length
Width
Height
Hull
Heavy Titanium-Reinforced Durasteel with Quadranium Plating.
Armament
[10] Heavy Composite beam turrets.
[15] Kochev Missile Pods (10 missiles each).
[30] Medium turboslasers.
Speed
Crew
Powerplant
[3]Destroyer-I ion engines
[6]Galaxy-15 ion engines
Hyperdrive
4,950,000 credits
Community content is available under
CC-BY-SA
unless otherwise noted.