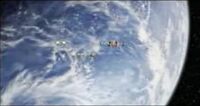 Dubrillion was an officially an Outer Rim world[1]. In the Jedi vs. Sith Universe, however, it was listed under the Tingel Arm. It was the sister world of Destrillion.
Physical Description
Edit
Dubrillion was a green planet with lush-green continents seperated by oceans. Fluffy white clouds moved through the sky.
In space, there was a nearby asteroid field.[2]
For the canonical history, please see Dubrillion's history at Wookieepedia.
Due to the timeline of the JvS Universe, the planet's history was...
Universe V1.0
Edit
Universe 1.5
Edit
References
Edit