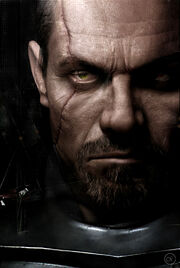 Biography
Edit
Dacon TryViron was born on Naboo in 15BBY, to his parents (part of the Mandalorian clan TryViron), who died 2 years after he was born, at the hands of a Sith Lord. Dacon was then taken in by the Jedi, and travelled with them to Yavin 4 to be trained as a youngling. He then was taken as a padawan at the age of 13 by Master Fargo. 6 years later Dacon's master left for the Unknown Regions. Dacon became a Jedi knight a year later on Utapou. He then take a padawan at the age of 20. His padawan was a Sith and be trait Dacon. In a battle for the academy on Utapou, Dacon fouled his padawan. Then became a gray Jedi by using the force to drain the life of the traitor but did not kill me. He left Utapou w/ Redfeather and he should Dacon the ways of the gray Jedi. Dacon was given the Gray Jedi outpost on Carellia. There he was also given the rank of Master. As time when on Dacon could not stand by any longer as the Sith where taken world after world. So Dacon take his saber and joined the fight on Alderaan. There he joined the Alliance and formed the A.D.F. As there leader he brut back the ways of the Mandalorian warriors that his Clan once was. As he defended Alderaan time after time he saw that it was time his Clan returned. As he fawned himself on Umgul, there he call for the Clan to gather, but none came. Dacon was the last of his once honored Clan. So there he built new Jedi Academy and started training new Jedi for the EO. After years of this Dacon started to feel a need to search for his old master. So once he had all in order on Umgul he left the EO and his academy for the Unknown Regions. It is unknown at this time if he ever fond his master.
Bio

Age

41

Gender

Male

Homeworld

Naboo

Species

Mandalorian

Affiliation

Jedi

Occupation

Engineer

Eye Color

Brown

Hair

Black

Height

6'4

Weight

220
Community content is available under
CC-BY-SA
unless otherwise noted.