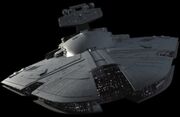 Chariot-class Star Cruiser
Production information
Manufacturer

Rendili StarDrive

Product line

Star Cruisers

Model

Chariot-class Star Cruiser

Class
Technical specifications
Length

600 meters

Width

421 meters

Height/depth

267 meters

MGLT

75 MGLT

Maximum speed (atmosphere)

800 km/h

Engine unit(s)

Alderaan Royal Engineers LF9 ion engines (3)
Secondary engines (3)

Hyperdrive rating

Class 1.0
Backup class 15

Hyperdrive system

DeLuxFlux hyperdrive motivator

Power output

Peak: 3,6 × 1024 W[3]

Power plant

Hypermatter Hypermatter annihilator

Shielding

Equipped (3,200 SBD)

Navigation system

Navigation computer equipped

Armament

Quad Laser Cannons (20)
Turbolaser batteries (30)
Ion Cannon (7)
Tractor beam projectors (1)

Complement

TIE squadrons (1)
Lambda-class shuttles (3)

Additionally:

Landing barges (1)
AT-AT walkers (1)
AT-ST walkers (4)

Crew
Minimum crew

1,200

Passengers

1,5-0 (troops)

Cargo capacity

4,000 metric tons

Consumables

4 years

Usage
Role(s)

Command ship
Patrol
Cruiser
Characteristics
Edit
Dimensions
Edit
At 600 meters long, the Chariot was a perfect size for maneuvering and entering the atmosphere.
Offensive and defensive systems
Edit
The Chariot had a small amount of offensive weapon systems, but its turbolasers and quad laser cannons were enough to destroy fighters and freighters, while a ion cannon can fire a disabling shot.
Complement
Edit
The ship can carry a single squadron of TIEs and three shuttles.
Propulsion systems
Edit
The Chariot had powerful engines, giving it a fast speed. It had a class 1 hyperdrive and a class 8 backup.
Notable models
Edit
The notable model of this class is the Gladiator, commanded first by renegade Imperials, then by Hypherius Bassell, the given the the mercenary Freelancer.
Cite error: <ref> tags exist, but no <references/> tag was found
Community content is available under
CC-BY-SA
unless otherwise noted.