An'atko is a male human Jedi Master, and knighted the last of the old Order by Revan.
An'atko
Biographical information
Homeworld

Kuat

Born

00ABY

Died

unknown

Physical description
Species

Human

Gender

Male

Height

2.0m

Hair color

Brown-Black

Eye color

Blue

Skin color

Pale

Chronological and political information
Era(s)

Empire/Legacy

Affiliation

Jedi order/Temple of Fortitude

Known masters

unknown, Revan

Known apprentices

Etal
Biography
Edit
Early life
Edit
An'atko was born on Kuat, and found by a unknown Jedi master. He was taken to Mustafar for training. On that barren world were not to many imperials, so he could sabotage them for training. There ha consrtucted his first lightsaber. This was a very long-hilted blue saber with no other than the very Kenobi's legacy.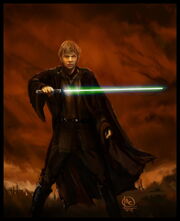 Fall to the Dark Side, Revan's training
Edit
After his master was killed he started killing imperials all over the galaxy. On Kashyyyk he slaughtered the wookiees. He was relentles, with no mercy. On Anoat he killed a Moff with coordinates to Csilla. He went to Lehon to meditate, and there appeared a ghost o Revan the Jedi, telling him his story, that he was also in An'atko's position torn in anger and hatred. Then the ghost started training An'atko and turning him back to the light. An'atko left Lehon and went to Tattoine to finish his training. Revan told him that he would be great, and gave him the title of the Jedi master of the old Order, and vanished.
Streffo Rancis and after
Edit
After a few years he met Steffo Rancis. He was suprised with the power he had. And saw that he will complete his fate in a connection with Steffo. He went to Csilla and found a young boy strong in the Force. The boy's name was Etal. They together explored the galaxy. When Etal became a master they together went on a last mission. After that he vanished, and presumed to be dead.
Powers and Abilities
Edit
An'atko was a especially strong with the Force, using abilities as: Push, pull, jump, run, mind trick, but also choke, lightning, crush, repulse. After Revan's training he understood that there is no real differece beetwen Light and Dark, so he used both Jedi and Sith powers.He was also a good negotiator.
Lghtsabers
Edit
This is An'atko's first lightsaber with Kenobi's legacy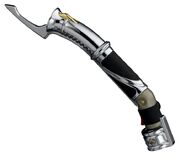 This lightsaber was created on Yavin 4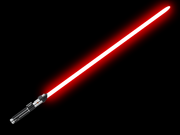 This saber was made when An'atko felltothe dark side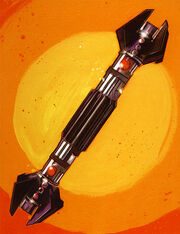 This lightsaber was made by Revan's instructions
Community content is available under
CC-BY-SA
unless otherwise noted.